by Edwin
Indonesia, Singapore, Germany, 2021, 114′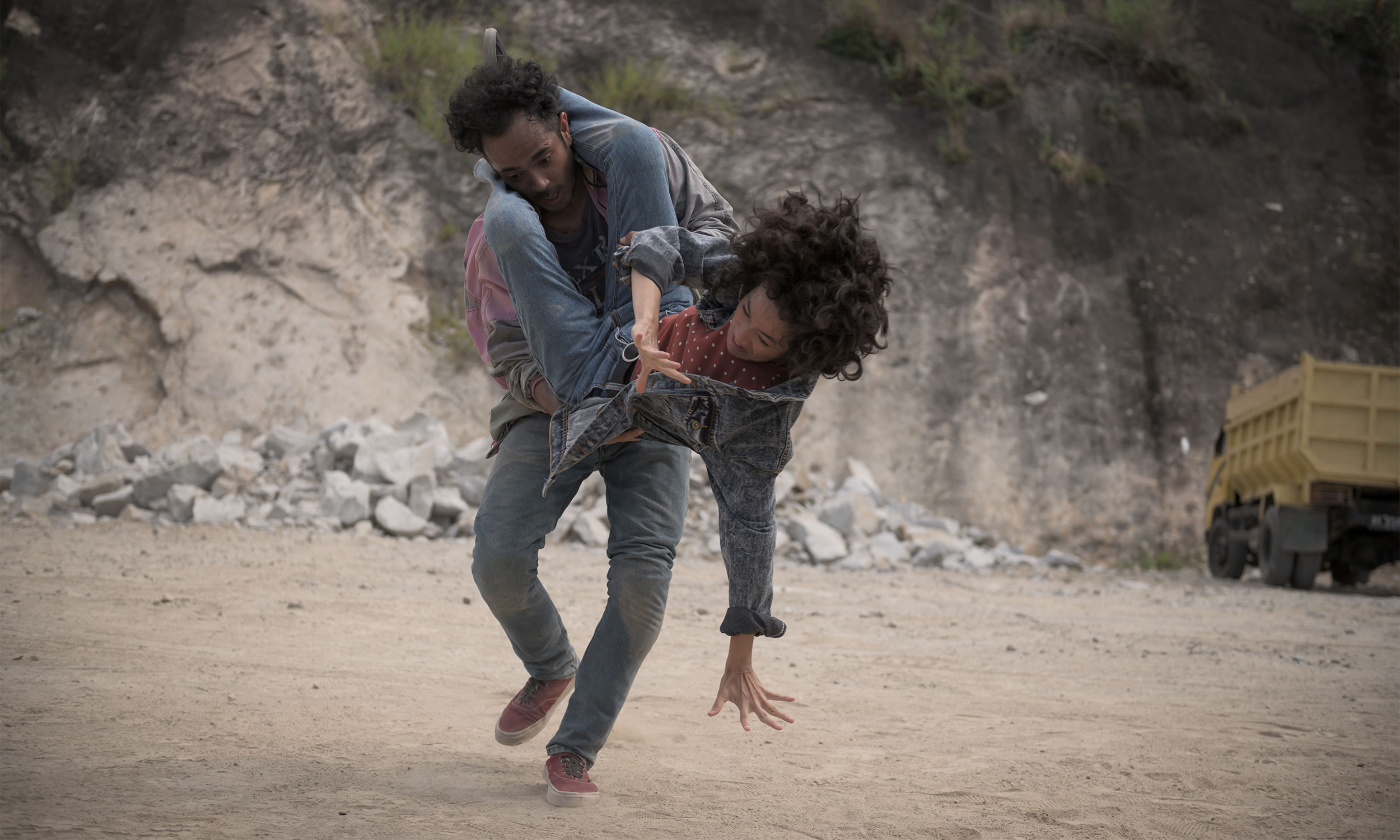 Ajo Kawir is a fighter who fears nothing, not even death. His raging urge to fight is driven by a secret — his impotence. When he crosses paths with a tough female fighter named Iteung, Ajo gets beaten black and blue, but also head over heels — he falls in love. Will Ajo's path lead him to a happy life with Iteung, and, eventually, his own peace of mind?
"In this film, I see Indonesia desperately trying to overcome its fear of impotence, its fear of failure to perform. We follow the journey of Ajo Kawir, who becomes impotent the day he was forced to watch a mentally ill woman being raped by two policemen. To mask his impotence, he takes the path of violence. He challenges everyone to a fight and makes sure no one can doubt his manliness. The culture of machismo only knows men who cry without tears. […] Machismo and patriarchal values are still ever present in today's Indonesia, supposedly a more open-minded and democratic society than the one in Ajo Kawir's youth. In this film, I would like to encourage people around me to chill on the macho man culture and take it easy with all the desperate efforts to hold on the mythical trophy of manliness. Should we waste time obsessing about getting it up, while more and more of the same violence still keeps occurring all around us?"
screenplay
Edwin
Eka Kurniawan
cinematography
Akiko Ashizawa
editing
Lee Chatametikool
music
Dave Lumenta
sound
Akritchalerm Kalayanamitr
Handi Ilfat
production design
Eros Eflin
costumes
Gemaila Gea Geriantiana
cast
Marthino Lio (Ajo Kawir)
Ladya Cheryl (Iteung)
producers
Meiske Taurisia
Muhammad Zaidy
production
Palari Films
co-producers
Nathaniel P. Gunawan
Reno F. Junirman
Lai Weijie
Bert Tan
Viola Fügen
Michael Weber
Nurhan Sekerci-Porst
Fatih Akin
co-productions
Phoenix Films
E&W Films
Match Factory Productions
Bombero International
executive producers
Natalie Balakrishnan
Natasha Sidharta
Willawati
Edwin (Surabaya, Indonesia,1978) studied graphic arts in Surabaya and directing in Jakarta. His short film Kara, the Daughter of a Tree (2005), was the first Indonesian short to premiere in the Directors' Fortnight section at Cannes, and his first feature, Blind Pig Who Wants to Fly (2008), had its Italian premiere at the Pesaro International Festival of New Cinema and went on to receive a FIPRESCI Award at International Film Festival Rotterdam. His second feature, Postcards from the Zoo (2012), competed at the Berlinale. This summer, his new film Vengeance Is Mine, All Others Pay Cash earned Edwin the Golden Leopard at the Locarno Film Festival.
2021 Seperti dendam, rindu harus dibayar tuntas
(Vengeance Is Mine, All Others Pay Cash)
2018 Variable No. 3 (short)
2018 Aruna & Lidahnya (Aruna & Her Palate)
2017 Posesif (Possesive)
2013 Someone's Wife in the Boat
of Someone's Husband
2012 Kebun Binatang (Postcard from the Zoo)
2010 Roller Coaster (short)
2009 Nairobi Notes (short)
2008 Hulahoop Soundings (short)
2008 Babi Buta Yang Ingin Terbang
(Blind Pig Who Wants to Fly)
2007 Trip to the Wound (short)
2005 Kara, Anak Sebatang Pohon
(Kara, the Daughter of a Tree, short)
2004 Dajang Soembi, Perempoean
Jang Dikawini Andjing
(Dajang Soembi, the Woman Who
Is Married to the Dog, short)
2002 A Very Slow Breakfast (short)