by Lucile Hadzihalilovic
UK, France, Belgium, 2021, 114′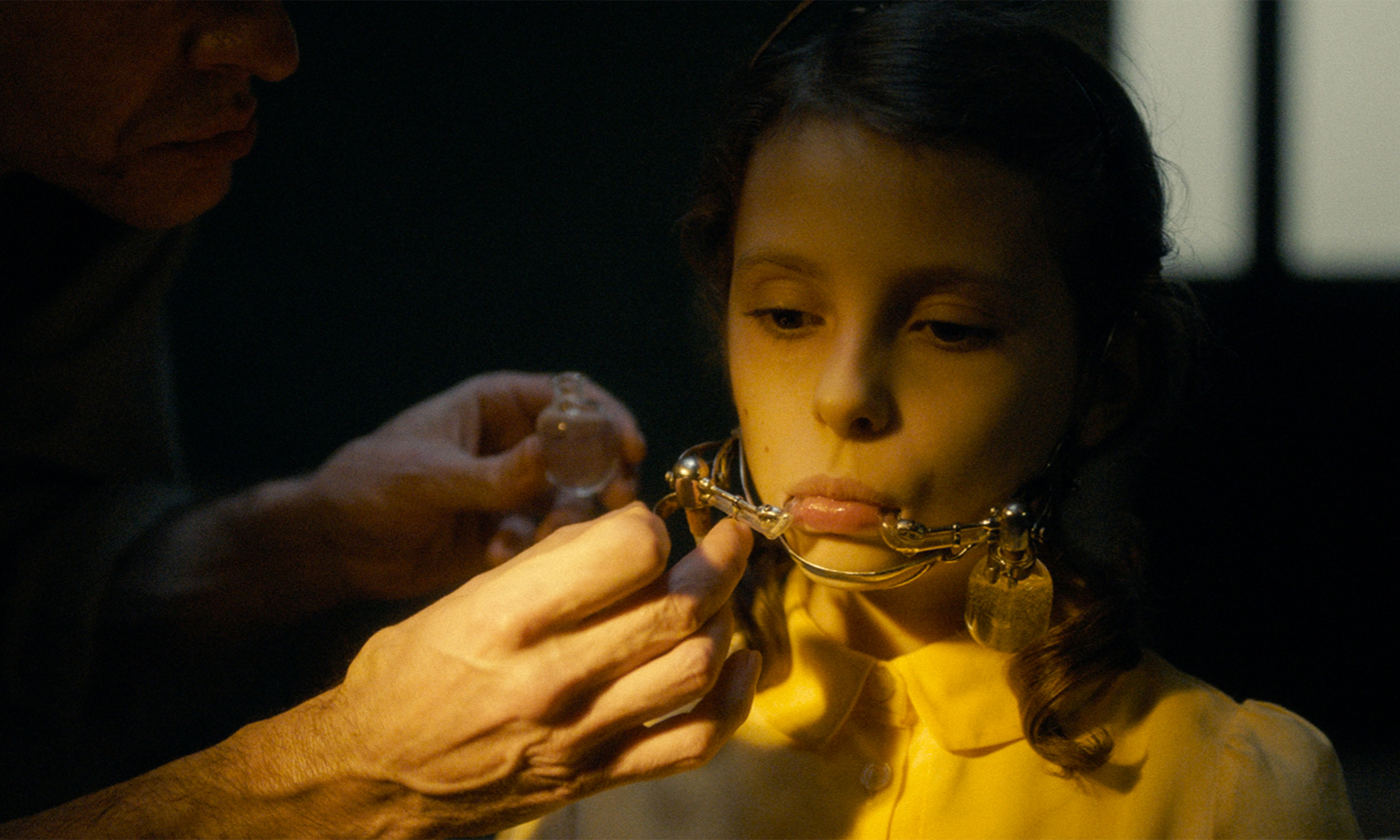 Somewhere in Europe, mid-twentieth century. Albert (fifty) is employed to look after ten-year-old Mia. His most important task is to see to her ice dentures, which must be changed several times a day. They live alone in a large apartment: the shutters are always closed, Mia never leaves, and day follows day in an unchanging ritual. Every week, the telephone rings and a male voice questions Albert about the girl's wellbeing. Every week Albert responds with the same answers, until one day the voice tells Albert he'll have to bring the girl to Paris. Devastated, Albert's world slowly unravels around him.
"Geoff Cox, who wrote the screenplay with me, is a friend of Brian Catling's. Brian gave him his manuscript and as he read it, Geoff immediately thought of me. Brian knew and liked my work, and so the idea that this novel could become a film I would direct was born. What's wonderful about Brian is that he's not only a writer, but also a visual and performance artist too, who started writing to extend the world of his imagination, and who is not so attached to his texts that he can't bear them being betrayed. The work of adaptation does imply a form of betrayal, but that didn't bother him. Quite the reverse: he thought it was fun. Brian gave me complete freedom, which was very generous and very precious."
screenplay
Lucile Hadzihalilovic
Geoff Cox
adapted from a novel Earwig
by Brian Catling
cinematography
Jonathan Ricquebourg
editing
Adam Finch

music
Warren Ellis
sound
Bruno Schweisguth
Ken Yasumoto
Benoît Biral
production design
Julia Irribarria
costumes
Jackye Fauconnier
cast
Paul Hilton (Albert)
Romane Hemelaers (Mia)
Romola Garai (Celeste)
Alex Lawther (Laurence)
Peter Van Den Begin (the Stranger)
Michael Pas (Dr Rostlink)
Anastasia Robin (Marie)
Isabelle de Hertogh (the Concierge)
Marie Bos (the Woman in the Clinic)
producers
Andy Starke
Jean des Forêts
Amélie Jacquis
productions
Anti-Worlds Earwig
Petit Film
co-producers
Jean-Yves Roubin
Cassandre Warnauts
co-production
Frakas Production
Lucile Hadzihalilovic grew up in Morocco, where her parents, both doctors, settled after leaving Yugoslavia and France in the late 1950s. She discovered and became enthralled with Italian giallo and comedy films, as well as American horror and science-fiction, as a teenager in 1970s Casablanca. At seventeen, Hadzihalilovic left Morocco for Paris, where she studied art history and later film at the IDHEC (now the Fémis). She and Gaspar Noé co-founded the production company Les Cinémas de la Zone, the name of which was a tribute to Andrei Tarkovsky's Stalker. Her debut medium-length feature, La bouche de Jean-Pierre, premiered in Un Certain Regard in Cannes in 1996. Eight years later, her film Innocence, starring Marion Cotillard, was awarded Best Film at the San Sebastian Film Festival. In a return to the Basque Country, Evolution picked up the Special Jury Prize at San Sebastian in 2015. 
2021 Earwig
2015 Evolution
2004 Innocence
1996 La bouche de Jean-Pierre (short)