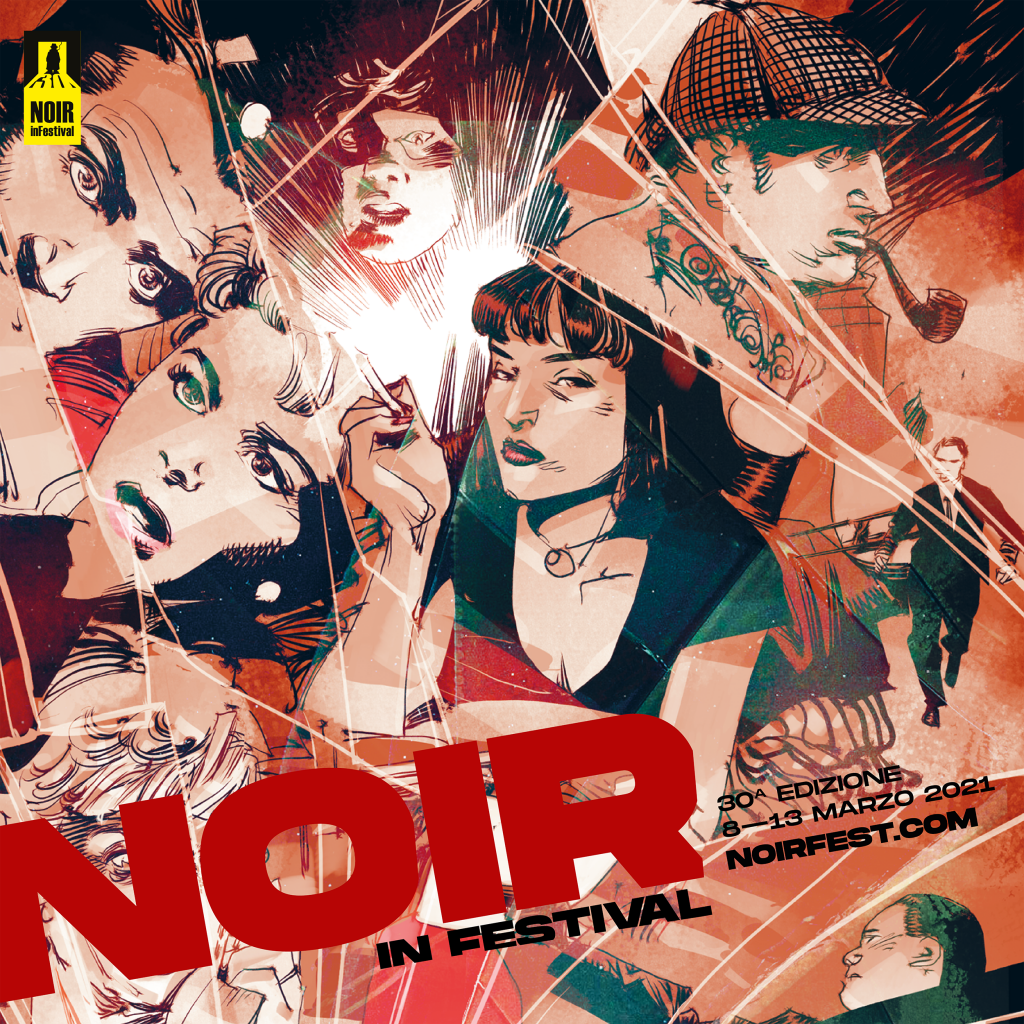 The thirtieth edition unfolds March 8th to13th, for the first time entirely online
From Monday, March 8th, to Saturday, March 13th (with a pre-opening event on Sunday, March 7th, focusing on Italian cinema), the 30th edition of Noir in Festival unspools – the best-known and most popular festival devoted to the mystery genre in all its myriad forms, from cinema and literature to television and new media. For the first time, the event will take place exclusively online and can be watched free on the MYmovies.it platform, the festival's social media channels (Facebook, Instagram, YouTube), and on Noir's official website. As in previous years, the heart of the event is still split between Milan and Como, thanks to Noir's collaborations with IULM University in Milan, the Feltrinelli bookstores, and the association Amici di Como. In reality it's all happening online: the premieres, the talks with filmmakers and authors and other events with our leading lights.
"The ongoing health emergency means we'll be celebrating this big anniversary months after our usual dates," declare Giorgio Gosetti, Marina Fabbri, and Gianni Canova (IULM delegate), "and deprived of any direct contact with our audience and the theater setting, but it still offers various models for meeting virtually that we'll be adopting for the benefit of our large Noir fan community, starting with the fantastic people's jury for the Caligari Prize, thanks to the help of the students on the IULM campus."
The underlying thread of this year's Noir in Festival, which has chosen to kick off on International Women's Day, is no doubt the ascendancy of female talent in the noir universe: with authors, filmmakers, stories and characters that create a sea change in our worldview and can look to a notable predecessor, Patricia Highsmith, on the centenary of her birth. This year it is natural, therefore, to start with a look at the evolution of women in noir, in the company of writers such as Gabriella Genisi, Margherita Oggero, Grazia Verasani, Rosa Teruzzi, Antonella Lattanzi, Francesca Serafini, and Nicoletta Vallorani.
On its 30th, Noir in Festival also welcomes: John Banville, winner of the Raymond Chandler Award; the past decade's revelation, filmmaker Jennifer Kent (The Nightingale); two past masters at visual excess, Kurosawa Kiyoshi and Brian Yuzna; the doyenne of Scandinavian crime fiction, Camilla Läckberg; the "mother" of Pedra Delicado, Alicia Giménez Bartlett; plus three of Italian noir's heavyweights, Roberto Costantini, Maurizio De Giovanni, and Gianrico Carofiglio, and a remarkable outsider, Nicola Lagioia; and lastly Charlotte Link and Anthony Horowitz, two international literary lights.
For our grand finale, the awards ceremony on Noir's closing night, two filmmakers will be on hand who have been linked to Noir in Festival since the debut of their first feature film (Piano 17), to one of this year's eagerly-awaited titles (Diabolik): the Manetti Bros.
Six international films will be vying for the Black Panther Award for Best Film, assigned by its jury (Carlo Degli Esposti, Camilla Filippi, and Gianluca Maria Tavarelli); and six Italian films from 2020 are in the running for the Caligari Prize awarded by a jury consisting of 90 IULM student cinephiles, guided by Claudio Giovannesi. There are five special events unfolding out of competition, including the buzzworthy Fulci Talks by Antonietta De Lillo, an explosive "uncut autobiography" of the genre maestro Lucio Fulci, to whom Noir in Festival is devoting a tribute featuring five films that have achieved cult status.