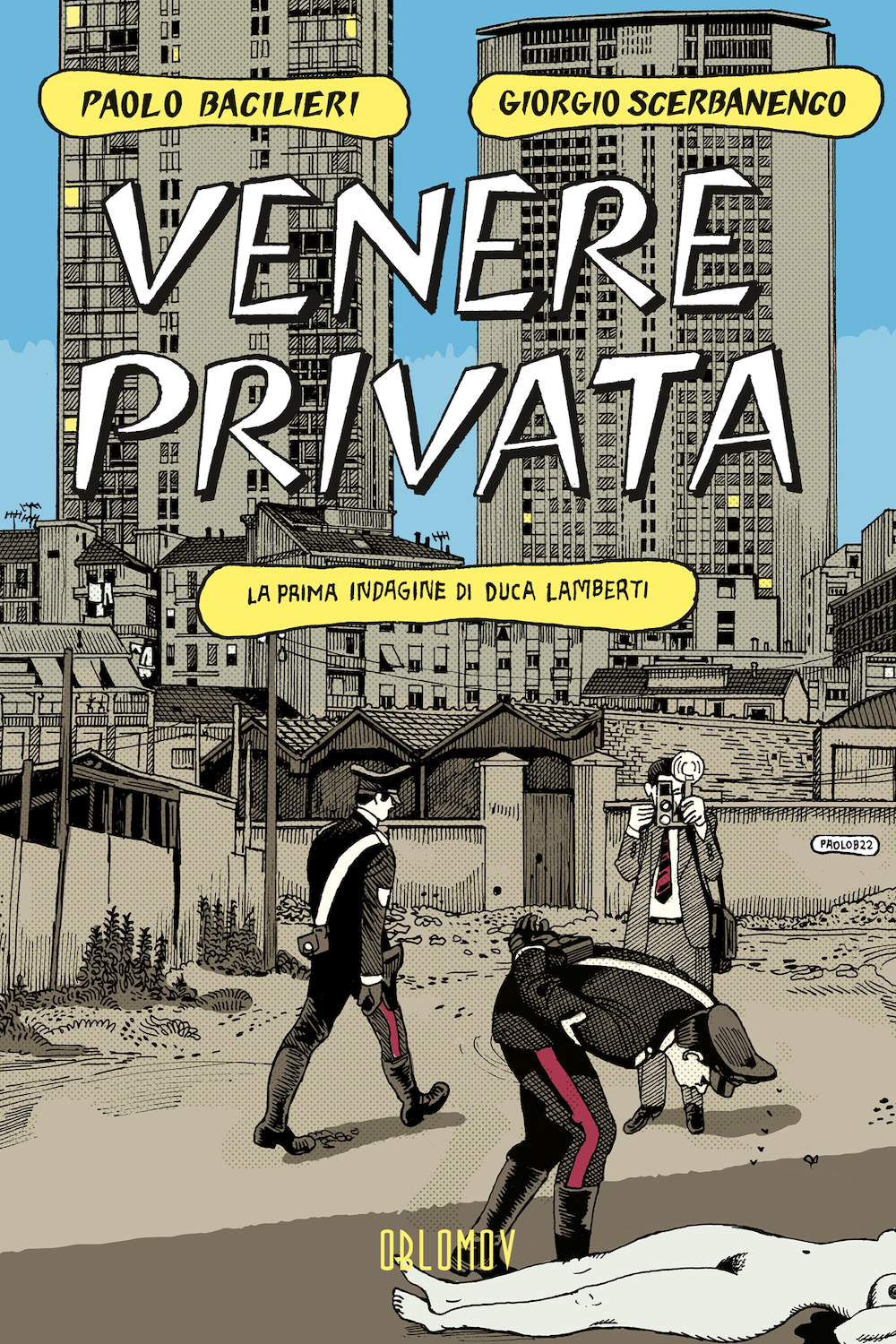 Graphic novel by Paolo Bacilieri
Paolo Bacilieri is the graphic artist behind the comic book adaptation of A Private Venus by noirmeister Giorgio Scerbanenco. This is the first investigation for Duca Lamberti, the iconic character at work in Milan, city of crime. The graphic novel's publication coincides with the last installment to come out in Linus.
In the outskirts of Milan, a young shop assistant is found dead. Duca Lamberti, a former doctor banned from medical practice for helping an elderly patient to die, has finished a three-year prison sentence and now needs a job. He agrees to take care of the alcoholic son of a wealthy businessman, Pietro Auseri, and cure him of his alcoholism. The two threads of the story are interwined, Lamberti realizes, when he learns the young man was driven to drink over guilt at having caused the young woman's death. Lamberti thus joins Inspector Carrua's investigation. Paolo Bacilieri wields understatement to follow the players in this drama, revealing bit by bit the little stories that are wrapped in the fog of a criminal's Milan by breaking up the picture, alternating points of view, close-ups, and long shots, and deploying an eroticism that equally caresses bodies and architectures.
Paolo Bacilieri is one of Italy's leading graphic artists today, his works translated all over the world. He's been drawing and storytelling since the 1980s, even since, at age seventeen, with a degree from Bologna's Academy of Fine Arts, he apprenticed himself to the great Milo Manara. His Zeno Porno stories, about his most famous character of the same name, won the Gran Guinigi Award for Best Solo Author at the 2006 Lucca Comics & Games. Since 1999 he has published with Sergio Bonelli Editore (Napoleone, Jan Dix, Dylan Dog). In 2012 he brought out Sweet Salgari (Coconino Press), a comic book biography of author Emilio Salgari, ten years in the making, and winner of multiple prizes. The years 2014 to 2019 saw the publication of Bacilieri's Fun (winner of the 2018 Eisner Award, for the American edition), More Fun, both of which revisit the genesis and legend of crossword puzzles, and Ettore e Fernanda (Coconino Press). No artist surpasses Bacilieri in depicting the urban landscape and especially Milan's, as can be seen in his Tramezzino (Canicola 2018), a story of young love in the shadow of the Velasco Tower, and winner of the 2019 Micheluzzi Award for Best Illustration. His most recent work is Bob84, scripted by Vincenzo Felosa. Bacilieri is a regular contributor to Linus, Domus, Abitare, and many other magazines.