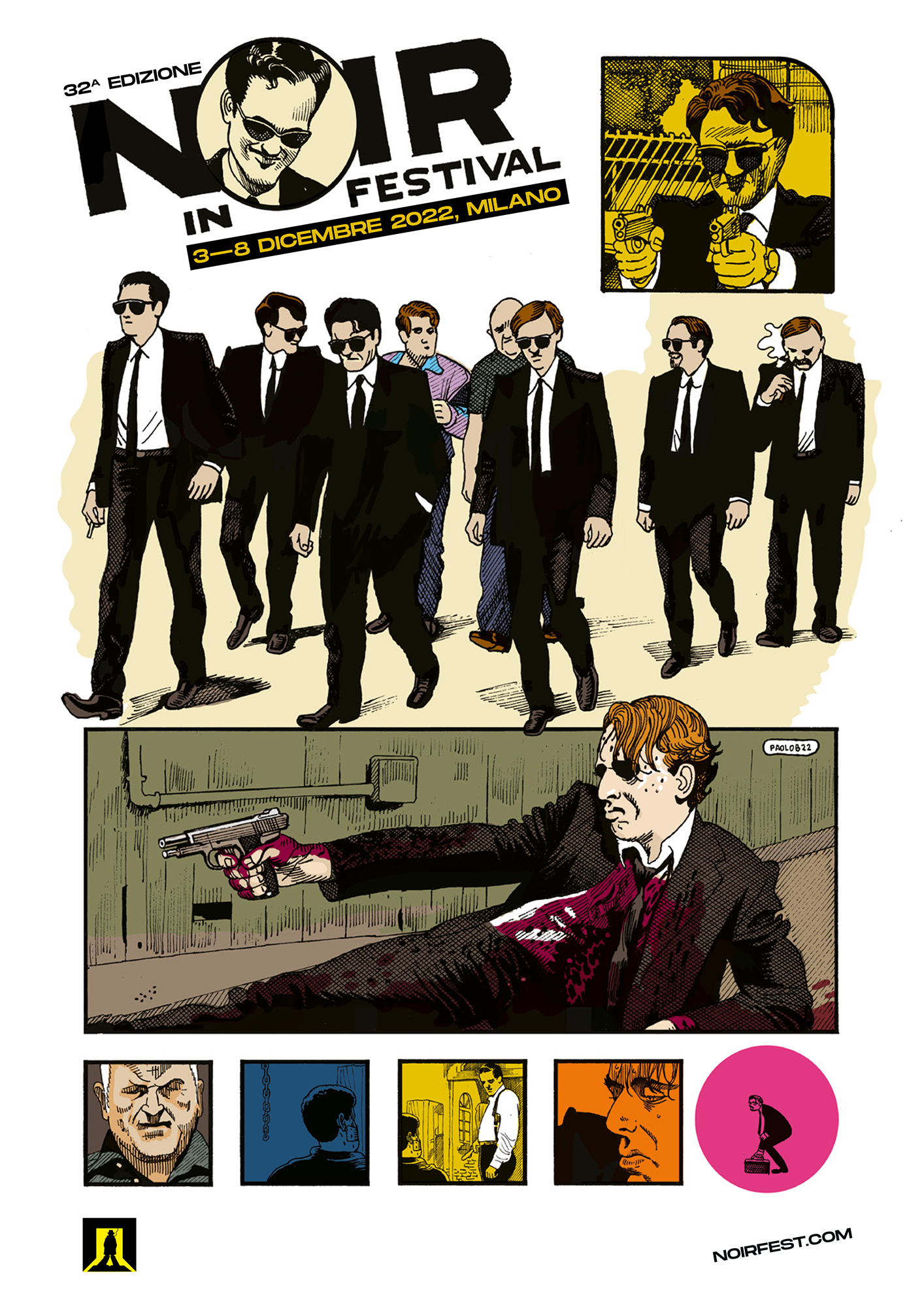 Noir in Festival unfolds in Milan from December 3rd to the 8th, 2022, with a packed program of cinematic and literary delights that pays tribute to Quentin Tarantino's genius on the 30th anniversary of Reservoir Dogs. It kicks off with an explosive poster for the 32nd edition, designed by world-class Italian cartoonist Paolo Bacilieri.
One of the best-known masters of the graphic novel, who has worked with leading publishers (such as Coconino, Rizzoli, Panini Comics, Casterman, Hollow Press, and Sergio Bonelli Editore), and won numerous awards (including the Gran Guinigi at Lucca Comics 2006, the Boscarato Prize for Best Italian Book in 2012 at TrevisoComics, and the 2015 Micheluzzi Award), Paolo Bacilieri was chosen to create the poster for the 32nd Noir in Festival. He thus joins a long line of talented cartoonists in over three decades of Noir, such as Gigi Cavenago, Lorenzo De Felici, Mario Alberti, Alessandro Baronciani, and Marco Galli, along with artists of the caliber of Hugo Pratt, Lorenzo Mattotti, Bill Plympton, Charles Schultz, and Mojmir Jezek.
This year the artist from Verona, who created Bob 84, a poliziottesco written by Vincenzo Filosa in 2021 and published by Panini, was faced with the challenge of revisiting one of the most iconic films of all time. Reservoir Dogs was Quentin Tarantino's breakout film in 1992, when he was a special guest at the first Noir in Festival held in Viareggio, where the film had its Italian premiere after wowing critics at the Sundance Film Festival and Cannes alike. Thirty years on, Tarantino's cinema, and indeed Noir in Festival itself, have never lost their power to disrupt. Our poster for 2022 turns into the storyboard for a cartoon in which Bacilieri has a ball retelling the film by fracturing it into pieces of its cult scenes and characters that form the artist's own personal mosaic of exquisitely pop shapes, images, and colors.
"For the 32nd edition," declare Noir directors Giorgio Gosetti and Marina Fabbri, "we didn't want to merely reference Tarantino's masterpiece, which left its mark on the history of noir itself and the festival. What we were aiming for was an image that could play with the past while coming off as contemporary. Mission accomplished by Paolo Bacilieri and his signature style, with a perfect "escape" from the confines of the canonic poster that turned it into a comic for the occasion, one inspired in turn by a film that is part of our collective imagination. Bacilieri serves up a sensory short circuit of post-modernity, Tarantino's films, and Noir itself, to which we pay homage in an edition more than ever inspired by the mingling of styles and genres."
And hot on the trail of such hybrid art forms, one year ago Bacilieri saw his comic-strip reworking (in a contemporary vein) of Giorgio Scerbanenco's first novel, A Private Venus, from 1966, appear in the prestigious magazine Linus. Since Noir in Festival has hosted the highest literary award for Italian noir novel of the year since 1997, named after Scerbanenco himself, it decided to devote a conference to this partnering of comic books and the literary noir genre, at which leading lights on the subject will compare notes: Cecilia Scerbanenco, Paolo Bacilieri and Elisabetta Sgarbi (publisher of La Nave di Teseo, which brings out all of Scerbanenco's oeuvre, and director of Linus). Save the date: Tuesday, December 6th, at IULM University.
Ahead of revealing, bit by bit, all the novelties of the 2022 program, we'll leave you in the company of a reminiscence from the diary of Noir in Festival from 1992, curated by Marina Fabbri: "Yet the most astonishing thing that happened that year was the arrival on Planet Noir of that wildly talented alien Quentin Tarantino. After we'd caught Reservoir Dogs at the Cannes Film Festival, and then spent sleepless nights trying to figure out how to premiere the film ourselves, I went on Tarantino's trail all over Europe, where the young filmmaker was summering after his stop on the Riviera, and finally, by some miracle, I managed to get him on the phone from Amsterdam. What convinced him to come? The presence of Dassin, the Curtiz retrospective, and the talk series on Italian mystery genre. Tarantino then showed up in Viareggio wearing his checkered lumberjack shirt, sporting a chin like Totò's and overlong arms and legs. A fixture in the screening rooms, he only came out to walk over to our offices and say "Thank you, thank you, thank you!!", laughing all the while. He was as thrilled as a kid to wallow in the films that he adored, and though he wasn't 'somebody' yet, for us he was Shakespeare with a movie camera."
Paolo Bacilieri (Verona, 1965) is one of Italy's leading cartoonists. Author of numerous graphic novels published by Coconino press, Rizzoli, Casterman, and many other publishing houses, he is one of Sergio Bonelli Editore's most beloved contemporary comic book artists. His most recent books are Sweet Salgari (2012) and Fun (2016), published by Coconino press; Palla (2017, Hollow press); Tramezzino (2018, Canicola), Ettore&Fernanda (2019, Coconino), and Bob84 (2021, Panini).