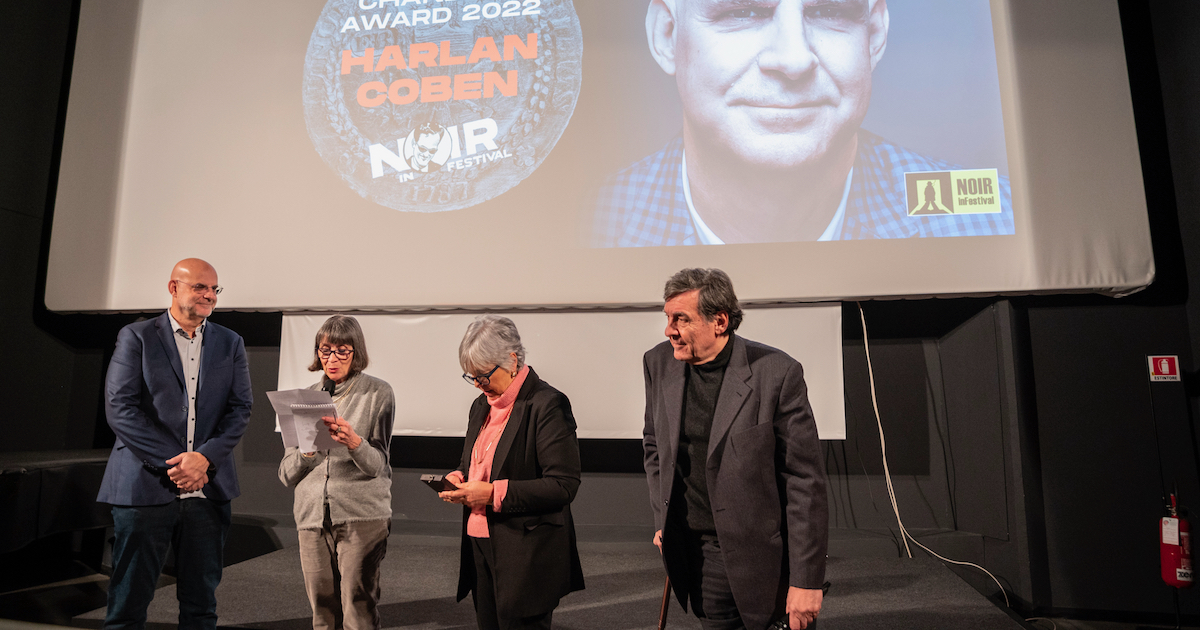 An edition that takes its rightful place in the history of the genre, thanks to an array of remarkable film figures and literary lights
Thirteen films holding their European or Italian premieres. Five special film events, twenty novels or graphic novels presented by their authors at the popular talks at the Casa del Manzoni and the Rizzoli Bookshop. Seven prizes handed out, among them the Raymond Chandler Award to an absolute master of new multimedia noir fiction such as Harlan Coben, his 2015 thriller just out in Italian: The Stranger (Longanesi). Then there's the Scerbanenco Award handed to Enrico Pandiani for his Fuoco (Rizzoli), the Black Panther Award for the film by Patricia Mazuy, Bowling Saturne, a rare example of noir meeting the female gaze, and the Caligari Prize bestowed on Paolo Strippoli's film Piove. Last but not least, "Stivale Giallo", a day-long event promoted by IULM University and devoted to studies on Italian genre fiction.
The above is a rough summary of an outstanding 32nd edition for Noir in Festival, which wraps up today in Milan with a tribute to Quentin Tarantino and his film debut, Reservoir Dogs, a revelation at our festival exactly 30 years ago, with a "special" 1992 Raymond Chandler Award devised to honor the startling talent of a director still under thirty himself and soon to be become the most famous filmmaker of his generation. Our poster for 2022, drawn by artist and cartoonist Paolo Bacilieri, serves as a bridge between the great noir tradition and its new horizons in the new third millennium. The 1992 Noir in Festival, with its A-list of auteurs such as Jules Dassin and James G. Ballard, has received a special homage this year, with the world premiere of a work-in-progress documentary by Davide Rapp and Michele Boroni, C'era una volta a Viareggio.
"Thank you, thank you, thank you, is what Quentin Tarantino said over and over thirty years ago in Viareggio, where our festival got its start," explain Giorgio Gosetti and Marina Fabbri today; they co-direct the festival with IULM's Gianni Canova, and IULM is now the Milanese headquarters of the event. "And now we say grazie, grazie, grazie: to our audiences, the students, the film aficionados: the Ministry of Culture and Cinecittà News; the Cineteca di Milano, the Casa Manzoni, and the bookshop Rizzoli Duomo; along with the Institut français and the Instituto Cervantes, all of whom gave such a warm reception to our program."
"Now we've served up an edition as rich in events as that of 1992 which we have re-evoked, confident that our 2022 festival will also be a vintage year in the history of the genre, thanks to outstanding figures on the noir scene today, such as Maurizio de Giovanni, Vicente Vallés, Donato Carrisi, Maria Oruña, Irvine Welsh, Steven Soderbergh, Patricia Mazuy, Alessio Cremonini, Mark Cousins, Lee Jung-jae, and Park Chan-wook. It's a festival that, unique in its genre, thrives on the college campus where it so recently took root and holds court at some of Milan's iconic locations. A festival out to discover new trends in noir today even as it celebrates the tradition and projects itself into the future, with its new section devoted to multimedia gaming. A festival that spoke of spies, Russia and Ukraine, TV series and films, Italian and European noir fiction; that summoned up that film legend and thrillmeister portrayed in Mark Cousin's My Name is Alfred Hitchcock. A festival that showcased a new generation of Italian film talent, such as Alessia Cremonini and his surprising Profeti, Enrico Pandiani and the unforgettable antiheroes in his new novel Fuoco, and newcomer Paolo Strippoli, whose film Piove revisits the tradition of noir auteurs Bava, Fulci, and Lenzi. So, same month, same place next year, in 2023, when we celebrate the 30th anniversary of the award dedicated to Giorgio Scerbanenco, the pioneer in Italian noir fiction."