| | |
| --- | --- |
| 12/12/2007 | |

Interview with George A. Romero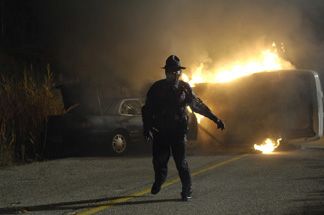 One of the most evident characteristics of Diary of the Dead is that it is low budget, like your first zombies films. What compelled this choice and structure?
It was very liberating. With the last zombie film I ...




| | |
| --- | --- |
| 12/12/2007 | |

From page to screen: Jar City

Icelandic actor Ingvar E. Siguršsson, winner of the Napapijri Award for Best Performance, reveals the secrets to his work in Jar City.
 
 
The essence of polar light hides behind the melancholic notes of the saddest songs ...




| | |
| --- | --- |
| 10/12/2007 | |

Radio 2 at the Courmayeur Noir in festival

Saturday Dec. 8 and Sunday Dec. 9 the second channel of the National Radio aired the program 'Tutti i colori del giallo' dedicated to the crime literature directly from Courmayeur with many of the writers and protagonists of this year's edition: ...